Press Coverage
Aquality Construction features in the media
LIV Magazine
Water, Summer's Coolest Element
Top Pool and Water Feature Trends Happening in Colorado Now
‍
Unparalleled when it comes to privacy, recreation, convenience and fitness, in-ground pools and unique water features are all the rage at homes throughout Colorado. Designed to support the variety of pursuits representative of the Colorado lifestyle — the newest trends involving water include unique automation systems to mitigate maintenance, an emphasis on landscape architecture surrounding the pool or water feature, and unique design styles...

‍Read more
Avid Lifestyle Magazine
Spa: Soak Your Pains Away
We Coloradans are an active bunch. And what's better than soaking away the aches from a weekend of tough cycling, climbing or hiking than a hot tub?  

Joe Dempsey Jr., COO of Aquality Construction says he sees a new trend in spas: plunge spas. "It's like a plunge pool, but it's warm," he says. "People want to stand or tread water." The size of the spas is increasing, too. Dempsey says they are building many spas up to 8 feet wide and 15 feet long. The best part is being able to use your spa all year-round...

Read more
Denver Post - Real Estate Section
Swimming with the tide: As out-of-town buyers wade into Denver's luxury market, pools are liquid gold
"Can you find me a house with a pool?" Top-selling agent Jackie Garcia says that query is one she hears often after a pandemic year when buyers are more inclined to think about spending their down time at home.

"Buy a house with a swimming pool and now you have a resort right in your own backyard"...

‍Read more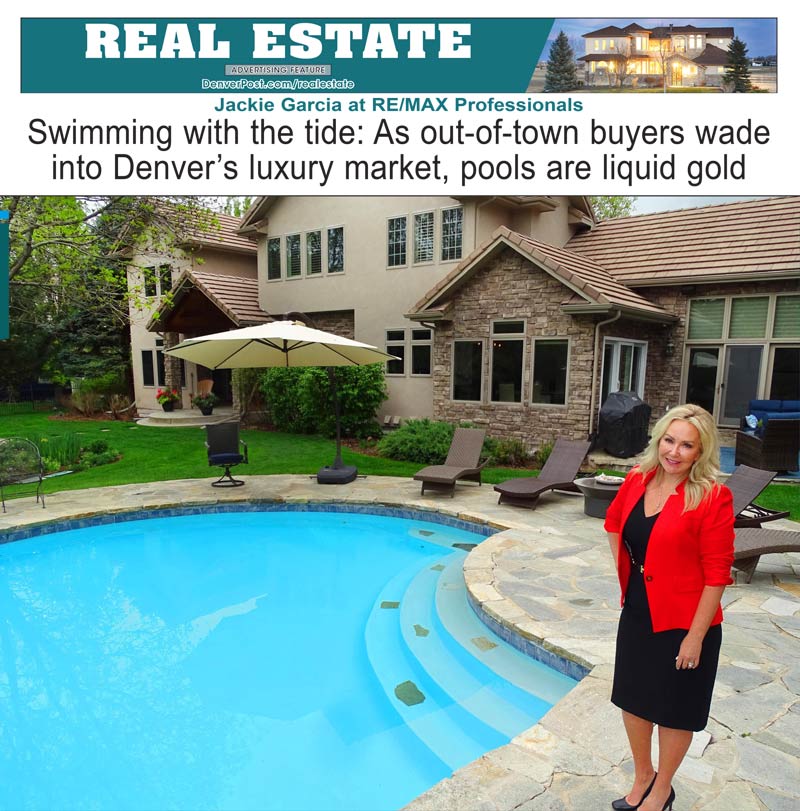 Urban Home Magazine
Recipe For Success
It has been 30 years since Joe and Lori Dempsey founded Aquality Construction, an award winning swimming pool and spa construction company headquartered in Broomfield, serving the entire State of Colorado. Their journey has been long and successful, but after so many years, how does any company retain their spot as one of the sought after and innovative firms in their respective industry? The answer... 

Read more
Colorado Urban Home
Who is Working on Your Pool?
Smart people know that with a little more up-front effort and not taking the seeming lowest bid will save you headaches and cost over the long run. Be wary of pool builders who can somehow 'save you' large amounts of money compared to the competition.

Read more
Denver Life
Water Feature
A Boulder area couple creates a stunning outdoor oasis that feels like a resort for adults and lives like a water park for their teenage children.

Colorado is a well-spring for outdoor entertainment, and one Boulder area backyard is no exception to that rule. A pristine pool, an extra deep spa and spacious outdoor living areas make a year-round mecca for keeping the kids busy and the adults entertained...

Read more
Urban Home Magazine
A Pool For The 21st Century
Despite today's app-driven world, the average person wouldn't think to marry space shuttle technology with swimming pools. But that is precisely what Aquality Construction of Broomfield, Colorado does...

Read more
Boulder County Home and Garden Magazine
Perfectly Pleasurable Pools
Dive into a swimming pool on a hot summer's day and suddenly you're on a vacation. Splashing water and coconut-scented sunscreen have the uncanny ability to put people in a carefree mood...

Read more
Broomfield Swimming Pool Award
...and now the Business Hall of Fame!
We are honored to receive the "Best of Broomfield Award" again for 2014 by the US Commerce Association (USCA). They have also included us in their Business Hall of Fame. Here are the notice we received from them:

"Aquality Construction has been selected seven years in a row for the 2014 Best of Broomfield Awards for Swimming Pools and now qualifies for the Broomfield Business Hall of Fame... This is a reflection of the hard work of not only yourself, but of many people that have supported your business and contributed to the subsequent success of your organization. Congratulations on your selection to such an elite group of small businesses."

We accept these awards humbly and always strive to build the best pools and spas for our valued customers.

APSP - Certified Building Professional® (CBP)
Joe Dempsey Jr. is now a CBP - December 2015
This nationally recognized designation is highly sought after by those who know the value of certification to raise confidence with prospective customers and raise your industry visibility with pool and spa manufacturers, distributors and buying groups. Candidates qualify by having at least five years of industry experience and 24 hours of continuing education credits within the last three years.

The APSP CBP designation is earned through a standardized written examination which measures knowledge of residential and commercial pool and spa construction. Applicants for the designation must meet industry experience requirements and, once the designation is earned, ongoing continuing education is required to maintain the certification. The program emphasizes a commitment to ethical standards and a commitment to the highest standards of construction and workmanship through adherence to national pool and spa standards.

Joe Jr. is a Certified Building Professional, and at the time of receiving this certificate, one of only four CBPs in the state of Colorado (December 2015). Congrats Joe!